An introduction to Brian Friel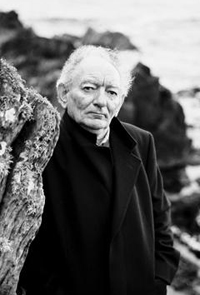 Dancing at Lughnasa is often referred to as Brian Friel's masterpiece. Which is great — everyone should have a piece of work that's their crowning achievement. But who is Brian Friel, and why are we so excited about his masterpiece? First off, you might be familiar with Friel's other work — he was the adaptor of Ivan Turgenev's Fathers and Sons, which EmStage produced this past February. Friel is often called the "Irish Chekhov" for his sparse dialogue and dry wit; his English-language translations of Chekhov are considered among the best. But, the playwright is also widely lauded for his original work: so much so, in fact, that in 2006, Friel was named Saoi of Aosdána — one of the highest honors Ireland can bestow on a native son, and one he shares with playwrights like Samuel Beckett and Seamus Heaney. 
Friel is notorious for speaking little about his personal life, and even less about his internal life, but this profile from a series on Irish theatre provides a pretty comprehensive look at the Friel that we do know.  
And to learn more about him, you'll just have to come check out Dancing at Lughnasa — the play that is considered Friel's best, as well as his most autobiographical.