by Christine Bernard
In response to the recent production of Twilight: Los Angeles, 1992, Emerson's Institute of Liberal Arts and Interdisciplinary Studies and Emerson Peace and Social Justice are today holding a panel discussion entitled "Why Los Angeles Exploded: Perspectives on the Urban Upheavals from 20 Years Out."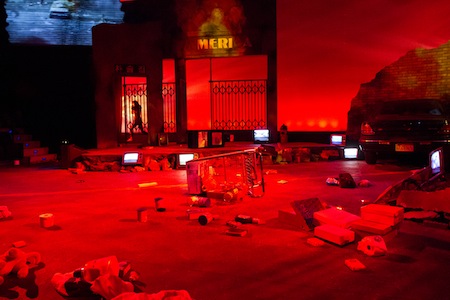 Drawing from first-hand experiences, three members of the Emerson community and a professor from Boston College will share their experience and perspective on the Los Angeles Riots and the lessons that can be learned from the events today.
The panelists include the following:
Amy Ansell, Dean of Liberal Arts, Emerson College
Tamera Marko, Lecturer, First Year Writing Program, Emerson College
Carole Simpson, Leader-in-Residence, Journalism Department, Emerson College
Min Hyoung Song, Associate Professor, English Department and Asian American Studies, Boston College
The discussion will be moderated by Erika Williams, Scholar-in-Residence, Institute, Emerson College.
Taking place during the 20th anniversary year of the Riots, this panel discussion will provide the Emerson community with a way to further their understanding of the Riots and discuss whether or not we can expect similar explosions of urban upheaval in the future.
This panel will be held tonight at the Charles Beard Room, located on the second floor of the Little Building, 80 Boylston Street from 6:00 to 7:45 pm.
Benny Sato Ambush directed the Emerson Stage production of Twilight to, in part, help the community understand that the events in LA twenty years ago could happen anywhere, anytime. In his program notes for the production, he notes how the Riots woke America up to many of the racial and class inequalities affecting our nation. He asked, "Are we still awake twenty years later?"
Your voice matters, so come join the discussion!
*****
Christine Bernard is a junior BS Marketing Communication major at Emerson College.