African-American History Celebrated at Emerson: Part 1
By Christine Bernard and Tyler L. York
Yesterday, Emerson College's Office of Multicultural Student Affairs and GLBTQ Resources launches its celebration of African-American History Month, part of a national celebration honoring the achievements of Black Americans and the central role of African-Americans in history. Since 1976, every U.S. president has designated the month of February as Black History Month.
To mark this month, the Emerson Black Organization with Natural Interests (EBONI) will be putting out a series of events on and off campus under the theme of "It's Worth the Struggle." A Speak Easy music and poetry event that will bring back a 1920's underground poetry and jazz atmosphere kicks off events this Thursday, February 3. There will also be a screenings of Misadventures of Awkward Black Girl on February 14 and Brother OUTsider on February 21. At the end of the month, on February 24, EBONI will sponsor a tour of the Boston African American Museum.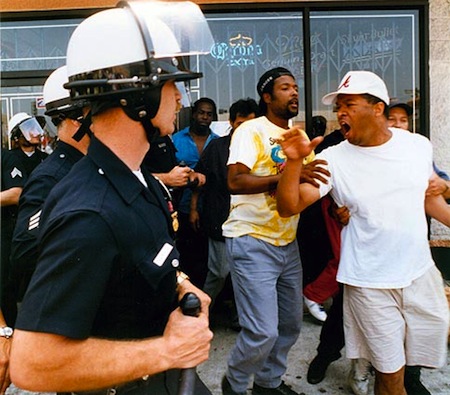 We commemorate African-American History Month with Anna Deavere Smith's Twilight: Los Angeles, 1992, which opens February 23. Not only does our presentation of this critical work coincide with our nation's annual recognition of Black Americans, but also with the twentieth anniversary year of the Los Angeles Riots. Emerson's Institute of Liberal Arts and Interdisciplinary Studies will hold a panel discussion on the Riots and the two following decades on Wednesday, February 29.
Visit our blog tomorrow for Part 2 of African-American History Celebrated at Emerson.
*****
Christine Bernard is a junior BS Marketing Communication major at Emerson College.
Tyler L. York is the Assistant to the General Manager of Emerson Stage / Department of Performing Arts at Emerson College.