By Christine Bernard
For those who haven't been counting the days, we have some exciting news: our production of Twilight: Los Angeles, 1992 is a nearly one month away! For two weeks now, the cast has been rehearsing for long and intensive evenings in the Semel Theater with the play's director, Benny Sato Ambush and the production team.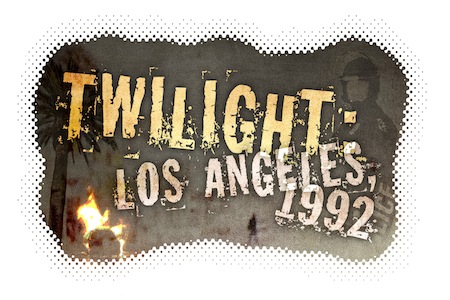 Twilight: Los Angeles, 1992 tells an emotionally challenging story, which takes both the audience and the cast through a world of anger, frustration, and sadness. This swirl of emotions is felt deeply by the actors, who are now internalizing the events portrayed in the play of the Los Angeles riots that followed the acquittal of four white police officers in the beating of Rodney King, an African-American.
"Emotionally, they're all over the place," says Ambush, speaking of his observations of the cast during the first two weeks of rehearsal.
In November, Ambush held two early rehearsals for Twilight. These rehearsals were meant to provide an overview of the story to the actors, who for the most part, knew little to nothing about the 1992 riots. Being exposed to those events for the first time, events that had devastated the lives of so many people and hurt so many races, was a shock for them. "Why didn't I know?" was one cast member's angry reaction.
Over the winter break, Ambush expected the cast to become deeply literate about the piece. Over their first week of rehearsal, Ambush acknowledged how interesting it was to "see how their feeling and thinking about all of this had evolved from doing all that research and spending time with their material." This piece has already transformed many of the actors who are now experiencing a lot of awakening, soul searching, and questioning.
Aside from the actors, the first week of rehearsal was also important for the design team who, on the first day, presented their design work to the cast. In addition, the play's dramaturg presented information about the history of the play and put it in its context.
Right now, Ambush is doing a lot of one-on-one work with his actors who have been assigned to do individual research on the characters they will be representing. They are focusing on practicing accents and dialects, which creates much of the beauty in the play. Rehearsals continue through February, culminating in performances February 23-26.
*****
Christine Bernard is a junior BS Marketing Communication major at Emerson College.