Q&A With Miles Millikan, Sugar Plums Molding Playwright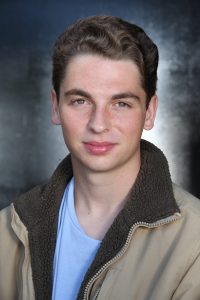 Emerson Stage's annual evening of student-written NewFest Shorts will take place at the Semel Theater on Saturday, March 23. I reached out to playwright Miles Millikan, BFA '21, about the process of writing his short play Sugar Plums Molding and working with Emerson Stage.
Tell us about the process of having your play produced as a NewFest Short.
Getting told my short was picked for a reading was truly surreal. Probably the best thing is the fact that they allowed me to send in a new draft. With almost a whole new energy, I got to dive back into this script and really make sure all the humanity was fleshed out and the world was true.
What excites you the most about working on Sugar Plums Molding?
It may sound silly, but getting to give a piece of writing from my head/heart over to a production crew like NewFest is incredibly freeing. The idea of giving up all control over my writing is sort of terrifying, so to get to do it in a college setting where my writing can be whatever it is, a flop or a fly, it's a gift to jump.
Sugar Plums Molding is one of two different NewFest Shorts about Christmas. What makes Sugar Plums Molding stand out?
Sugar Plums Molding is an absurd corner of a world that is very much our own, but like most of my writing I try to make sure there is true humanity weaved throughout a seemingly ridiculous script. It is a piece that explores magic, that has three flawed and growing individuals. There is no protagonist and there is no antagonist other than perhaps the complexity of dealing with something like childhood magic and the tragic transition of that into something more "real.
What has it been like working with the rest of the creative team for the NewFest Shorts?
The director, Emma Meyerson, has asked me questions that really let me think about this piece in a way that revealed details even to me. It's lovely to have someone who seems to care about this piece as much as I do.
You've continued to revise the script for Sugar Plums Molding. How is the process informing the changes you've made?
Revising the piece and its characters has really illuminated the messiness of each of their ideologies. I've really gotten to fall in love with each of them, and that went into my writing. I love all three of them, they've all got a little part of me in them now.
What do you think Emerson students and audiences will take away from seeing Sugar Plums Molding?
I think audiences can take away a little snippet of family. They can take away a small taste of a really full and really complicated trio of lives.
NewFest Shorts performances of Sugar Plums Molding by Miles Millikan (directed by Emma Meyerson), Some Christmas by Brandon Beach (directed by Gabriella Cuebas), and Black and Ugly as Ever by Porsha Olayiwola, co-produced by Flawless Brown (directed by Danielle Jean-Baptiste) will take place in the Semel Theater at 8:00 p.m. on Saturday, March 23; free admission.