The Woman Becomes the Artist
By Dena Roncone, Production Dramaturg (Interior of the Artist Without Her Sister)
Interior of the Artist Without Her Sister explores how we remember our lives and the way in which we refashion our memories to make sense of our present. This innovative new theatrical work by Emerson alum Masha Obolensky spans a nonlinear time period from the late 1880s to 1941 as it explores the beautiful and complex relationship between sisters, painter Vanessa Bell and writer Virginia Woolf, from their childhood to the aftermath of Virginia's death.
Around the turn of the century, young British people began breaking out of their strict Victorian childhoods which were filled with harsh treatment from parents and harsh, restrictive movement and learning. Victorian women were subjected to similar societal rules. Mothers were meant to be strict and enforce proper etiquette and wives were expected to serve their husbands, a sentiment expressed by Vanessa Bell's mother in our play:
"It is our duty as women to sacrifice. That is in the order of nature. We must submit to the needs of others and by doing so, reap rewards unimagined."
The restrained, patriarchal lifestyle had severe effects on the characters in Interior of the Artist Without her Sister. Vanessa Bell, Virginia Woolf, and the artists, writers, and intellectuals that were their friends and fellow Bloomsbury Group members sought to break free from the buttoned-up, stifling Victorian life, propelling them to create art that they felt reflected the reality of modern life. The Modernist movement was a rejection of strict traditions and realism's unembellished depictions of nature and society. After the world went through an industrial revolution, these artists sought to abandon classical styles to explore experimental techniques that embraced self-consciousness. Writers rebelled against clear-cut storytelling and visual artists resisted realistic representation.
The turning point of the artistic lives of Vanessa and Virginia occurred when they went to an exhibition organized by their friend Roger Fry at the Grafton Galleries in London in 1910: "Manet and the Post-Impressionists." This exhibition introduced London to Gauguin, Cézanne, Van Gogh, Manet, and Picasso and completely changed the sisters' perception of art. In reaction to Fry's exhibit, Vanessa wrote, "All was a sizzle of excitement, new relationships, new ideas, different and intense emotions seemed crowding into one's life." While some critics of the exhibit called the show "perverse" and "hideous," the Post-Impressionists gave Vanessa a feeling of "freedom" and "release." Vanessa harmonized her style with these techniques, to create radical landscapes, interiors, and portraits, using saturated color and bold shapes. Her audacious style led her to be credited as one of the first women in England to experiment with abstraction.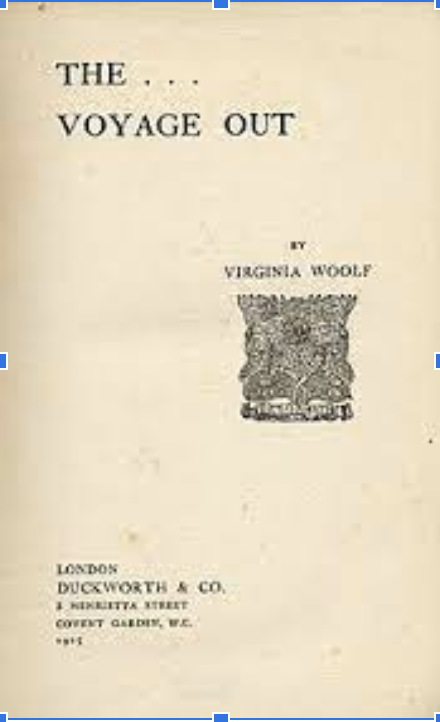 Virginia had begun working on her first novel in 1908. Seeking to break free from the traditional Victorian novels, she sought to create a novel that would inspire "flight of the mind." She struggled with writer's block until Roger Fry's Post-Impressionist exhibit. She became inspired by the works of Manet, Picasso, and Cezanne and wanted to model the effects of their work in her writing. Over the next few years, she reworked and finished her first novel, published in 1915. The Voyage Out reflects her journey out of repressed Victorian life in her home as a child to her intellectual and artistic freedom.
Much in the same way, Vanessa painted numerous self-portraits throughout her career, showing her taking charge of the perception of her own life.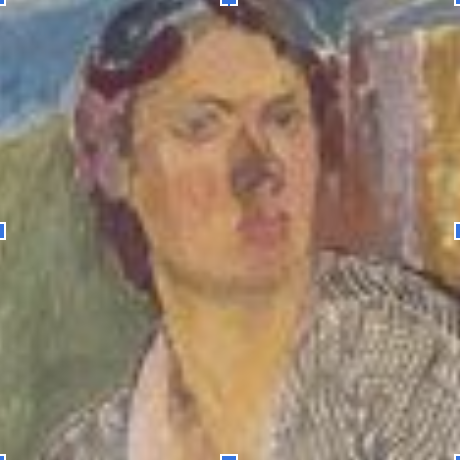 "Having been forced to attend social gatherings by her step-brother, Bell wanted to now define her life on her own terms and so set about creating a world of her own making. Here she presents herself in an attitude of stoutish defiance, her shoulders braced at a combative angle. This is how she would have the world see her" (Jessica Dipalma on Vanessa Bell, Self Portrait, 1915).
Virginia Woolf wrote avant-garde perspectives on modern transformations in sexuality, gender roles, and class. She is known for stream-of-consciousness writing and her explorations of the nature of human perception as she meditated on the subconscious and time. Virginia Woolf became a prolific writer, innovating the form and content of the novel, essay, biography, and letter, throughout her career. She began writing diaries in 1915 at age 33 and left 26 volumes, writing entries until 4 days before her death in 1941. Her copious publications gave Obolensky a wealth of material to use in creating her investigation of the sister's lives. Obolensky beautifully weaves excerpts of Virginia's diary entries into the text of Interior of the Artist Without Her Sister, brilliantly using both Virginia's and Vanessa's own words as a storytelling guide. Primary sources and imagined reflections blur and blend, taking audience members on a theatrical journey through the words, sights, sounds, and art of Vanessa's life.
---
Performances of Interior the Artist take place March 25 through 28. Purchase tickets and learn more at emersonstage.org/newfest-2021-new-play.