by Christine Bernard
Countdown to Twilight: Los Angeles, 1992: 8 days! With so much excitement in the air, we couldn't help but take a tour of the Emerson costume shop and get a little sneak peek of the upcoming show's costumes. Chloe Goldberg, junior BFA Theatre Design/Technology major concentrating in costume design, was kind enough to tell us about her inspiration and the influences that led to her costume designs for Twilight.
Last summer, the director of the show, Benny Sato Ambush, began by asking her to not follow the stage directions indicated in the script, thus giving her the freedom to interpret for herself the clothing of the characters portrayed. Only after she began to imagine who these characters are for herself did she conduct research on the characters, all of whom are actual people, and the time period. The reason for such precaution lays in Ambush's desire for this piece to send a message, drawing a connection between these events and our world today, rather than be a mere presentation of the Los Angeles episodes.
The two main sources that inspired and solidified Goldberg's work were culture and style. She did extensive research about the late 80's and early 90's style in order to correctly capture the details in the costuming. For example, one of the characters, Rudy Sallas Sr., is an older Hispanic man who she dressed in guayabera shirts, which are identified with older, more traditional generations of Hispanic culture. This character's father was also a part of the Villa clan, whose members wore yellow, which Goldberg used to refer to this affiliation.
Goldberg admitted that it wasn't too much of a challenge designing costumes for the more obvious characters like a business person who could simply throw on a suit. However, for the more casual characters she used hints like color to represent who they are.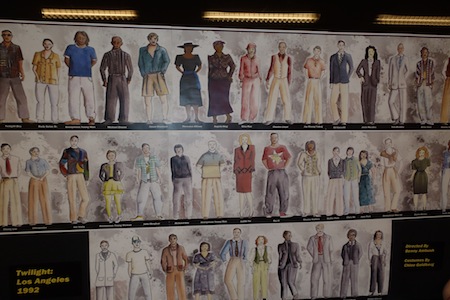 One interesting thing about the costumes for this show (as you can see in the photographs above) is that there isn't any unifying traits or colors. Sato Ambush wanted the costumes to be as diverse as the characters. Every character's costume is remarkably unique!
Goldberg's previous Emerson Stage work includes Assistant Costume Designer for Man of La Mancha, The Actor and The Actor's Nightmare, and Paint.
*****
Christine Bernard is a junior BS Marketing Communication major at Emerson College.