By Lindsay Eberly
What's the common denominator between a guy named Moose, an auto shop in Brockton and a dozen TVs? That would a Mr. Ron DeMarco, props master extraordinaire in general and currently Props Master on Emerson Stage's Twilight: Los Angeles, 1992. Ron's been making the magic happen onstage for years, but this particular show has presented quite a few props to challenge the master.
The first challenge? Scenic Designer Jeff Eichert designed the set with a period car onstage. Because Twilight largely centers around the riots that took place in Los Angeles in 1992 following the acquittal of four white police officers charged with beating Rodney King, an African-American, the car needed to look damaged and possibly be damaged during the production. Jeff also didn't want a whole car onstage; he simply wanted one half of a car.
Next bit of fun: Ron only had $350 to create this magic, which needed to cover the cost of car, cutting the car, and transporting the car. Ron, being the ultimate professional, was completely unfazed and immediately began hitting up salvage yards around Boston. He estimates that he visited about a dozen, with each one telling him it was impossible before he hit gold. At Everett's Auto Supply in Brockton, MA, they believed in the Emerson Dream. It so happened that one of the employees has a daughter attending Emerson in the Visual and Media Arts department. They had a car for $350, however they were very generous and decided to refund him the full amount once he returned the car safe and sound after the production. They even said they would cut it up for him! He then took a walk down to his local mechanic and, because he is Ron DeMarco, they agreed to provide a flatbed to transport the car from Brockton to Boston and back for $100. If you're keeping track, this means that Ron spent a whopping $100 on this challenge!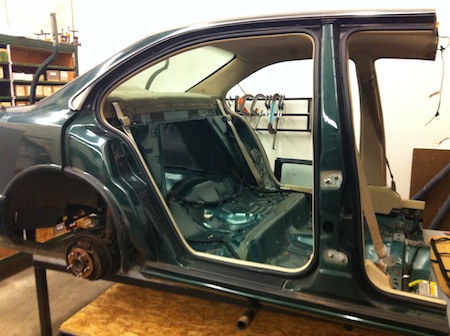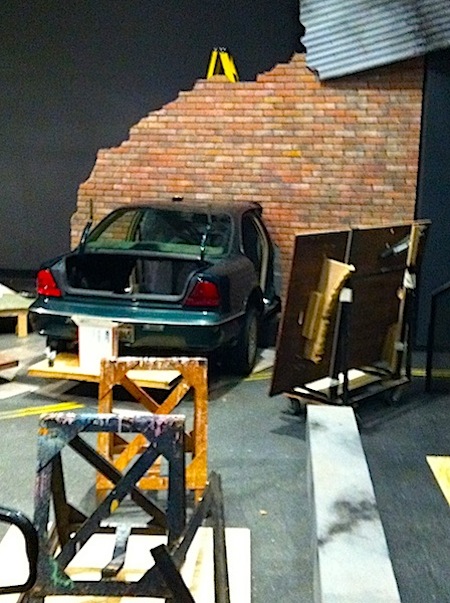 The next prop lurking on the horizon, just waiting to challenge Ron was a newspaper vending machine. This posed a challenge because it needed to be operational so that the actors could actually take a newspaper out of it. Taking into account the rioting once again, it also needed to be tipped onto its side. Ron had a lead on a new machine for just $100 (a real steal), but an employee unfortunately backed over it with a forklift. After that mishap, Ron contacted the Boston Globe and they immediately directed him to speak with a guy named Moose. Moose (no last name) works in their warehouse and is the man to talk to about getting a machine. Apparently Moose also believes in the Emerson Dream and Ron because he agreed to let Twilight use the machine, bang it up and then return it for free!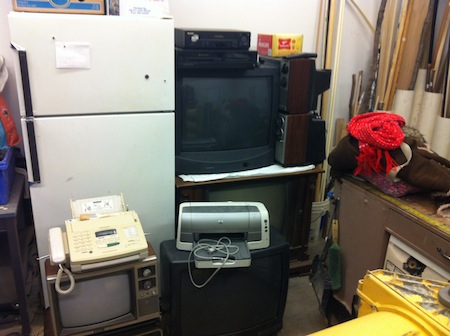 You may now be asking, where do those dozen TVs come into play? Jeff designed the set with numerous TVs littered about with the intention that they will all display the same image at various times throughout the performance. The use of TVs acknowledges that the Rodney King riots were the first to be broadcast live on television. Ron has accumulated about a dozen working TVs that would have been in use in the early 1990s. To accomplish this feat, he began trolling Craigslist where the most he ever spent was $5! Now that is deal!
In order to see all these awesome props onstage and to see Ron's brilliance in action, come see Twilight: Los Angeles, 1992 from February 23-26, 2012 in the Semel Theater. More info here.
*****
Lindsay Eberly is a senior BFA Stage/Production Management student at Emerson College. She is the Stage Manager of NewFest 2012: Rough & Tumble.