Introducing: Emerson Stage 2019–2020 Season Directors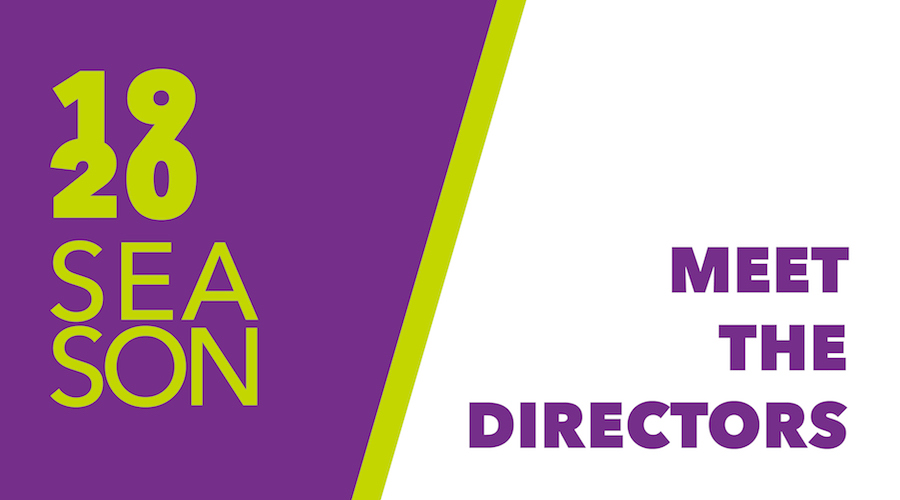 We have a great 2019–2020 Season line up! Each production is led by its own spectacular director with a vision that will come to life on the stage. Read more about this season's directors below.
Rebecca Bradshaw—Director, Stupid F##king Bird
Rebecca is an Emerson alum as well as a theatre director, casting director, and producer in the Boston area. She has directed full productions for SpeakEasy Stage Company, The Nora Theatre Company, Greater Boston Stage Company, A.R.T. Institute, Emerson College, Brandeis University, Bridge Rep of Boston, The Umbrella Center for the Arts, Hub Theatre of Boston, Weston Drama Workshop, Fresh Ink Theatre, Can't Wait Productions, and Brown Box Theatre Project. She is the Associate Producer at the Huntington Theatre Company, handling line producing, local Boston casting, and developing new works. When she's not scootering (think Vespa, not Razor) from work to rehearsal, Rebecca enjoys mandatory no-phone weekends, sharing a whiskey with other artists, and watching anything BBC with her partner and cats.
What most excites you about Stupid F##king Bird?
Conrad's journey is eerily similar to my own as an Emerson student. Ideas and creativity are pumping through your veins as real life is encroaching—making a career as an artist is extremely risky; concerned about acceptance from your family and the world; and wondering how am I going to afford living in a city?
Michelle Aguillon—Director, Augusta and Noble
Michelle is a Boston-based, IRNE Award-winning director and theatremaker. She has directed shows with Company One Theatre, the Emerson Umbrella, and The Nora Theatre Company, among others.
What most excites you about Augusta and Noble?
I'm excited to tell this family's story, especially considering how relevant it is to our times.
Larry Sousa—Director and Choreographer, Flora, The Red Menace
An award-winning director and choreographer, Larry's work has been featured at theatres from coast to coast, including The Joyce Theatre in New York City, The Garry Marshall Theatre in Los Angeles, Seattle's 5th Avenue Theatre, Pasadena Playhouse, Goodspeed Musicals, The New York Fringe Festival, Musical Theatre West, Wyoming Theatre Festival, Utah Musical Theatre, SpeakEasy Stage Company, The Boston Gay Men's Chorus, Boston Children's Theatre, Gloucester Stage, Reagle Music Theatre, and many more. His work also appears in commercials and films.
Which of the production's musical numbers are most evocative of the show's theme?
Here's just one example: "All I Need Is One Good Break" reminds us why Kander and Ebb are two of the most important writers in American musical theatre. This song perfectly encapsulates the energy, passion, and hope at the center of the story.
Maureen Shea—Director, 10 Out of 12
Maureen teaches in the areas of directing and dramatic literature for Emerson's Department of Performing Arts. Her directing credits include Circle Repertory Company and Music-Theatre Group in New York, Philadelphia Drama Guild, Los Angeles Women's Shakespeare Company and, in Boston, the Huntington Theater Company, Coyote Theatre Company, Nora Theatre Company, and The Theatre Offensive. Shea also has directed a number of workshop productions and staged readings for Next Stage Inc., New Voices, and Word of Mouth in Cambridge, Somerville, and Boston, MA.
What most excites you about 10 Out of 12?
This play is a warm and funny tribute to the makers of theatre. It's a kind of love letter to the process and the practitioners of "Downtown," experimental theater in New York City.
Clay Hopper—Director, The Last Days of Judas Iscariot
Clay was formerly the Associate Artistic Director of Olney Theatre Center and Director of both the National Players and the Summer Shakespeare Festival at OTC. Directing credits include Two Gentlemen of Verona, Twelfth Night, The Tempest, Othello, The Taming of the Shrew, Much Ado About Nothing, A Midsummer Night's Dream, Romeo and Juliet, and Amadeus. Hopper also directed Farragut Northand Triumph of Love on Olney Theatre Center's Main Stage and Call of the Wild, a musical adaptation of Jack London's novel by Jon Lipsky, first as a workshop at Boston University, then as a touring production for The National Players on tour 59, culminating in the world premiere on Olney Theatre Center's Main Stage in 2009.
How do you think The Last Days of Judas Iscariot complements other Emerson Stage offerings this season?
It has an urban, sharp-edged wit, that is employed to crack the veneer of fairly huge philosophical and ethical concepts. It's fits the season's contemporary take on classic or classical ideals.
Elaine Vaan Hogue—Director, The Wedding Gift
Elaine is a director, actor, and teacher. Working in various styles and disciplines Elaine's primary focus is a physical approach to acting, directing, and devising new works. Elaine performs, directs, and teaches in diverse settings—professional, university, community– across the country. Elaine is a passionate and active member of The Magdalena Project, a dynamic international cross-cultural network of women's theatre and performance facilitating critical discussion, artistic support, and training. The Magdalena Project's reach extends across generations and is represented by every continent. Elaine has participated in many Magdalena festivals and gatherings. She is profoundly influenced by the work of El Grupo Yuyachkani (Peru), Dah Theatre (Serbia), Odin Teatret (Denmark), and Teatro delle Radici (Switzerland). Meeting and collaborating with incredible women from different countries and diverse cultures is food for her soul and a creative necessity. Elaine is extraordinarily grateful for these ongoing artistic exchanges. Elaine is also the Co-Artistic Director and founder of The Gypsy Mamas, a grass-roots laboratory sustaining creative exploration and fostering interdisciplinary collaboration in the creation of new work. She particularly loves collaborative creative adventures in which artistic roles are fluid.
What most excites you about The Wedding Gift?
The play is provocative—at the same time it's very funny and entertaining. Chisa Hutchinson has a gift for tackling thorny, difficult subject matter imaginatively and with humor. She creates a compelling fictional world in which the characters are boldly etched—a world that is familiar yet not based in realism, a fantasy world in the far off future.
Joe Antoun—Artistic Director, 2020 NewFest: New Works Festival
Joe holds an MA in playwriting and directing from Emerson College. Concentrating on new plays, he is the founding Artistic Director of Centastage where he has developed, directed, or produced over 70 new plays including six Women On Top Festivals of new plays by women and four Boston Sings Boston cabarets of new songs. He was the recipient of the 2008 Independent Reviewers of New England (IRNE) Kenneth A. McDonald Award for Theater Excellence. Antoun is also on the directing and acting faculty at Emerson College where he serves as the Artistic Director of Newfest. Recent work: The Fakes-A Noir (IRNE Award, Best New Play, IRNE Nomination, Best Director), God of Carnage (IRNE Award, Best Director), and Academy Fight Song (IRNE Nomination, Best Director). Last June he produced and directed the critically acclaimed Noir Hamlet, a new play which re-imagines the iconic story in Los Angeles in 1949.
Emerson Stage's 2020 NewFest: New Works Festival will feature a full production of a new play written by an Emerson College student; readings and shorts written and directed by Emerson College students; and a new play workshop featuring a new work by a guest artist, performed by Emerson College students.
Timothy Douglas—Director, Side Show
A New York City based theatre director, actor, and educator, Timothy currently serves as an Associate Artist for Cincinnati Playhouse in the Park where he has staged the world premiere of Keith Josef Adkins' Safe House, Jitney Buzzer, Clybourne Park, The North Pool, The Last Firefly, a mixed-race Mothers & Sons, and his African-American take on Horton Foote's The Trip to Bountiful. Most recently he directed the China tour of Ayad Akhtar's Disgraced for Ping Pong Productions, and also served as director of Ione Lloyd's Eve's Song for the Sundance Theatre Institute/Lab in Morocco, as well as the premiere stage adaptation of Jason Reynolds' Long Way Down for the Kennedy Center for the Performing Arts, and productions of The Color Purple for Portland Center Stage, Seven Guitars for Yale Repertory Theater, Nina Simobe: Four Women, Disgraced, and King Hedley II for Arena Stage, Gem of the Ocean, Father Comes Home From The Wars Parts 1, 2 & 3 for Roundhouse Theatre, Richard II for Shakespeare & Company, and off-Broadway with Brontë for the Alloy Theatre Company.
Timothy Douglas is new to the Emerson faculty this year and this will be his first time directing an Emerson Stage—welcome to Emerson, Timothy!
For more information about our 2019–2020 season, please visit emerson.edu/emersonstage. Tickets go on sale August 22, 2019.