Q&A with Tom Simpson, Working Co-Lighting Designer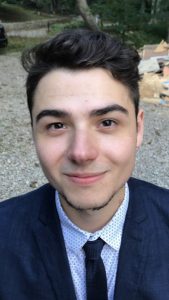 Emerson Stage's production of the musical Working (2012 Revised Version) opens on Thursday, April 18, at the Cutler Majestic Theatre. I reached out to Co-Lighting Designer Tom Simpson, BFA '19, about his role, process, and experience working with Emerson Stage.
What inspires your design process in general as well as specifically for Working?
I would say that the music inspires my design process the most. The first thing I do when working on a musical is listen to the score over and over, and try to fall in love with the songs. There are multiple recorded versions of Working out there, so one of my favorite things has been tracking the differences in the songs between the original Broadway recording, the televised PBS version from the 80's (which is fun to watch because James Taylor himself is in it), and the newer London recording. This carries over to being in the rehearsal room, too; hearing the cast singing "If I Could Have Been" for the first time and listening to the harmonies come out was a special experience and made me so happy. Loving the music really makes designing the show a more personal and organic experience, both in the slower songs where the lighting can bring out the emotional potency and in the faster ones where Tyler and I get to use our lighting to convey the rhythm and punctuate the music and stage action.
What's been challenging about this show?
I think it's been a really smooth process (hopefully I'm not jinxing myself by saying that right before we go into tech), but the size and complexity of the set is definitely challenging. Just about every decision Tyler and I make also needs to be thought about from a scenic perspective. Mainly because part of the scenic concept is to not see any lighting equipment, which makes booms and front of house positions difficult, but also because the set is so gosh darn big! The top of some of the beams are only a foot away from where our lights are hanging, and the downstage area is very crowded between our lights and scenic elements. But both of us are really grateful to have Luciana as our scenic designer, and the fact that she is so dedicated to her vision and always willing to work with us on our needs is fantastic and inspiring.  
Tell us about what it's like being on a lighting 'team' with your co-designer and assistant designers?
We have a really fantastic team. I love doing shows with my Co-Lighting Designer Tyler because he is so focused on figuring everything out and getting all the paperwork done, and he never rushes or worries about who gets credit. Even the smallest things we do like putting each other's name first on paperwork, letting each other speak during meetings without trying to interject, or asking each other's opinion on any decision goes a long way to make the experience more cohesive and collaborative. Our assistants, Amanda and Grace, are also amazing. They always find time to complete an assignment quickly and on short notice.
What has you the most excited about Working?
It's been my dream since my first year to design the musical in the Majestic theatre. There's a huge sentimental value in that, and even more so because it's my last show at Emerson. The moment I'm anticipating most is the first time we see our lighting cues with the actors. Lighting is a tricky medium because no matter how many renderings you have or how much previsualization you do, there's no way of telling exactly how the lights will look on stage until tech begins. So in that first moment of tech, you see everything coming together in good and bad ways—whether it's an angle and color that you chose perfectly kissing the stage with light, or a surprisingly reflective set piece which produces a nasty tint on the actors. The combination of seeing everything that works well while also realizing what you need to fix is such a unique rush of adrenaline and excitement, and one of the most exciting parts of the process.