Summer Spotlight: Morgan McMillin '23 is working on The Producers at the Firehouse Center for the Arts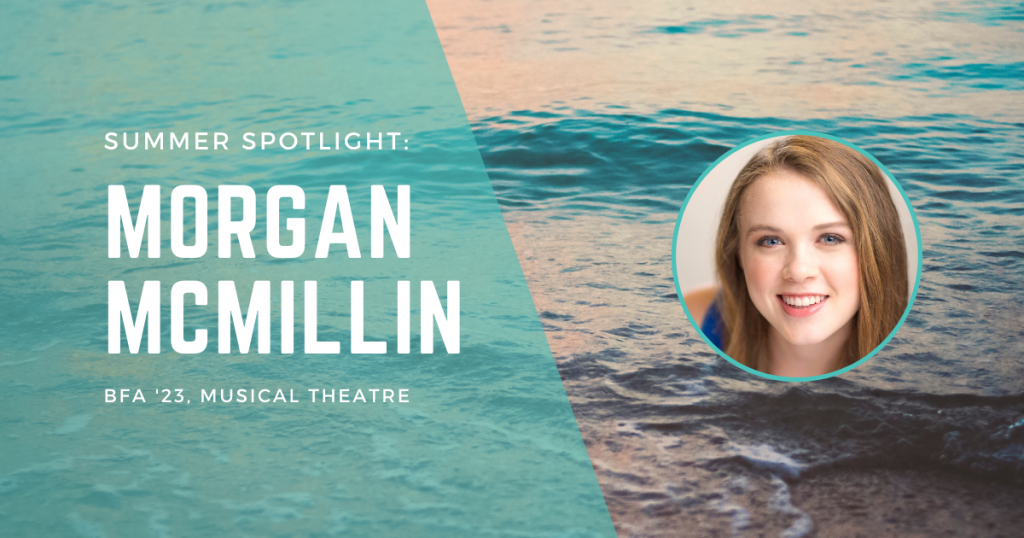 Morgan McMillin (BFA '23, Musical Theatre) is spending part of her summer in the ensemble of The Producers at the Firehouse Center for the Arts in Newburyport, Massachusetts (performances June 10 through July 17). On Saturday, June 11 she'll be taking over our Instagram Stories to give us an inside look at a day in her life on the North Shore!
Emerson Stage sat down with Morgan to get to know a little bit more about who she is and what she's working on this summer:
Morgan, can you tell us a little bit about yourself?
Hi! My name is Morgan! I am from Dallas, Texas and live with my mom, dad, younger brother, and my yellow lab, Hadley. I am an avid supporter of the soccer team Arsenal (NORTH LONDON FOREVER), and will always sing full out whenever a 5SOS song is being played.
I am a rising senior musical theater major. I just recently made my Emerson Stage debut as Stepsister Lucinda in Into The Woods. I have been a part of student theater since my first year whether that's being a part of the cast or creative team. My next project will be choreographing You're A Good Man Charlie Brown in the fall.
Tell us about what you're working on this summer!
I am working at the Firehouse Center for the Arts in Newburyport, Massachusetts. I am a part of their main stage show of The Producers. My roles include Ensemble, Featured Dancer, Lick-Me Bite-Me, and Various.
I am super excited to share my experience because this is my first ever summer stock job! I can't wait to show all of my hard work with the Emerson community.
What has been an unexpected challenge in this role and how have you learned from it?
An unexpected challenge in this role was learning how to take care of my body at such a fast pace. This show has a six-week run and there is A LOT of dancing. I have never been in a show where I dance more than I do anything else, so I quickly had to figure out what my body needed and its limitations in order to function consistently at such a high level.
What has been your favorite part of this experience so far?
Definitely all the folks I have met. The people working on this show made it so easy to become friends with them. Being so far away from home and all my peers and moving to a new place not knowing anyone was very intimidating.
The lesson I will be taking with me throughout life is making sure everyone feels welcome in a new space/job. You never know what they have gone through, so seeing kind eyes and a big smile in a new environment always helps.
What's next for you? Where can we find you online to continue following your journey?
After The Producers closes in July, I will be moving into my apartment in Cambridge with my BFF Liv! We both will then be starting rehearsals for Emersons upcoming fall musical The Spitfire Grill. Stay tuned for that show because it is going to be awesome. So many amazing people are a part of that production