Downtown Theater in New York by Alison Qu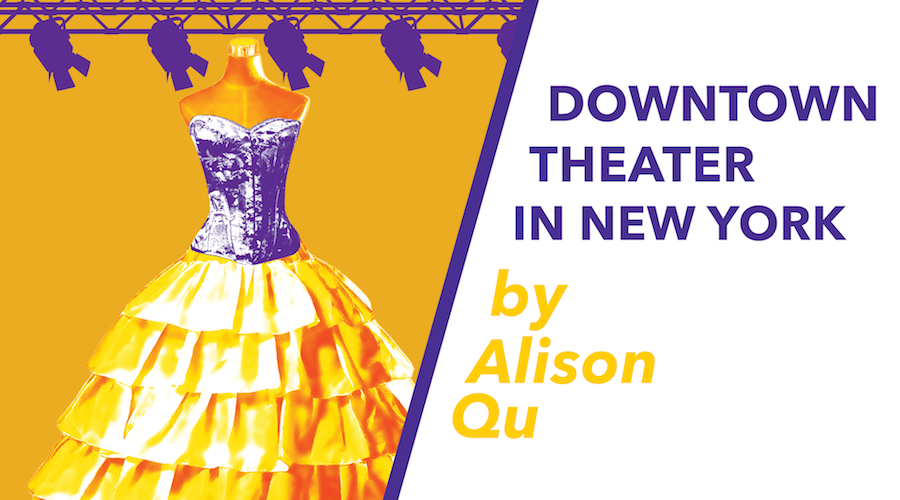 by Alison Qu, 10 Out of 12 Production Dramaturg
10 Out of 12 was born in 2015 at Soho Repertory Theater, a small theater located in the middle of what we call "Downtown"—anything that is south of 30th Street in Manhattan for a New Yorker. But when applied to the theater, the word "Downtown" refers to Off and Off-Off-Broadway theaters that produce avant-garde works, and the realm of American experimental theatre for the past 60 years. Anne Washburn herself was also a Downtown playwright; many of her works were born out of big Downtown companies such as Clubbed Thumb, Cherry Lane Theater, and Dixon Place. In this magical Downtown, the legendary Richard Foreman and his Ontological-Hysteric Theater mounted most of their revolutionary work, and many acclaimed playwrights bloomed out of a basement theater called The Ohio. Full of glamour and artistic creativity, today Downtown is still the home to a dedicated community of artists there who live and breathe to make new, provocative work, even when many venues are struggling to survive. 10 Out of 12 is a love letter to them—to those outrageous artists who were rushing around the East Village, dancing in underpants and making sweaty, funny, raucous theater, barely making a living but changing the world bit by bit. With the map below, you can zoom in and click to learn more about a selection of significant Downtown theaters, You can even add them to your own Google map to make your next trip to New York City a little bit more experimental.
LEARN MORE
A curated reading list about Downtown Theater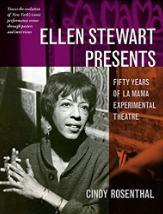 Ellen Stewart Presents: Fifty Years of La MaMa Experimental Theatre
Publisher: University of Michigan Press (October 16, 2017)
The founder of La MaMa Experimental Theatre Club, Ellen Stewart (1919–2011) was responsible for a staggering array of productions and for fostering generations of directors, playwrights, actors, composers, and performance artists. Following Stewart's vision for this book, theater scholar Cindy Rosenthal relates the history of La MaMa through its performance posters, capturing the irreverence and the aesthetic of La MaMa over five decades. Richly illustrated, including posters and photographs of early productions and other rarely-seen photos, and featuring interviews with a wide range of now-famous La MaMa alums, Ellen Stewart Presents is a book for theater aficionados and anyone interested in the history of Off-Off-Broadway, the cultural history of New York City, or visual culture from the 1960s to the present.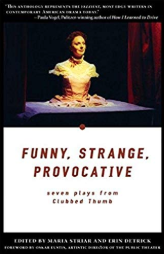 Funny, Strange, Provocative: Seven Plays from Clubbed Thumb
Publisher: Playscripts, Inc.; 1First edition (April 1, 2008)
This anthology includes seven plays produced by Clubbed Thumb, the Obie Award-winning downtown New York City theater company that burst onto the new play scene in 1996. Edgy and thought-provoking, each play is funny, strange, and provocative in surprising, widely varying ways. Includes the plays The Typographer's Dream by Adam Bock, Crumble (Lay Me Down, Justin Timberlake) by Sheila Callaghan, Demon Baby by Erin Courtney, 16 Spells to Charm the Beast by Lisa D'Amour, Inky by Rinne Groff, Dearest Eugenia Haggis by Ann Marie Healy, and Freakshow by Carson Kreitzer.
Mr. Burns and Other Plays
Publisher: Theatre Communications Group; 1st Edition edition (March 21, 2017)
An ode to live theater and the resilience of The Simpsons, Anne Washburn's apocalyptic comedy Mr. Burns—"even better than its hype" (New York Post)—is an imaginative exploration of how the culture of one generation can evolve into the mythology of the next. Following an enthusiastic critical reception from New York critics for its world premiere in 2012, Mr. Burns had its London premiere in spring 2014. Also included in the collection are The Small, I Have Loved Strangers, and 10 Out of 12, all of which, together, explore ideas of destruction, from the personal to the city to civilization and, finally, to the destruction of form.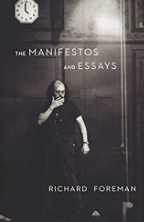 The Manifestos and Essays by Richard Foreman
Publisher: Theatre Communications Group (December 3, 2013)
During the forty-five years Richard Foreman has been staging his wildly inventive work, he has been wrestling with the basic question of "What is art?" This book collects his writings on the subject, from his early manifestos through his recent transition to film, and provides a fascinating window into this singular artist's mind and creative process.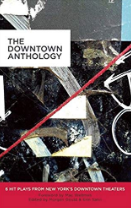 The Downtown Anthology: 6 Hit Plays from New York's Downtown Theaters
Publisher: Playscripts, Inc. (July 7, 2015)
Bringing together some of the innovative, thought-provoking, and daring new works from New York's downtown theater scene, The Downtown Anthology offers a rich collection of plays from both up-and-coming and established playwrights. The book includes: A Map of Virtue by Erin Courtney; We Are Proud To Present A Presentation About The Herero Of Namibia, Formerly Known As Southwest Africa, From The German Südwestafrika, Between The Years 1884–1915 by Jackie Sibblies Drury; Trevor by Nick Jones; The Lily's Revenge by Taylor Mac; Alice in Slasherland by Qui Nguyen; and Phoebe in Winter by Jen Silverman.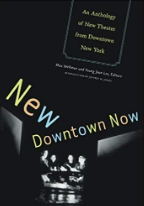 New Downtown Now: An Anthology Of New Theater From Downtown New York
Publisher: Univ Of Minnesota Press; First edition (May 26, 2006)
At a time when serious drama was being most produced for the American stage, an innovative new generation of playwrights based in New York City has emerged, crafting works that challenge and undermine the conventional structure, language, and characterization of commercial theater while rejecting outdated notions of the avant-garde. The anthology includes Interim by Barbara Cassidy; Tragedy: a tragedy by Will Eno; Nine Come by Elana Greenfield; Shufu-Sachiko and Enoshima Island by Madelyn Kent; The Appeal by Young Jean Lee; The Vomit Talk of Ghosts by Kevin Oakes; Ajax (por nobody) by Alice Tuan; Apparition, an uneasy play of the underknown by Anne Washburn; and Demon Baby by Erin Courtney.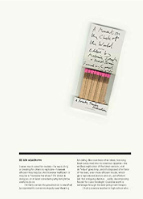 A Moment on the Clock of the World: A Foundry Theatre Production
Publisher: Haymarket Books (October 8, 2019)
Inspired by the 25-year inquiry of the Foundry Theatre, A Moment on the Clock of the World is an invitation to consider what it means to make the world, together. It is an anthology of inquiry arising both within and between art and social justice practices, collecting the voices of people who respond to this invitation with their living lives and prolific work: artists, social justice practitioners, cultural critics and public intellectuals—Cornel West, Taylor Mac, Alisa Solomon, Robin D.G. Kelley and Laura Flanders among them—whose own inquiries intersected with that of the award-winning Foundry Theatre across its 25-year history. Notions of collaboration, art, community, space, prefigurative politics, metrics, and Time animate a conversation about the ways that artists and social justice workers build a more equitable world, and the historic challenges of their doing so together.
10 Out of 12, directed by Maureen Shea, opens on Thursday, November 21 and runs through Sunday, November 24 in the Semel Theater. Ticekts ($12 for general public and $8 with Emerson ID) are available at bit.ly/10-out-of12.