TEST TEST TESTING TEST TEST TEST by Samantha Golub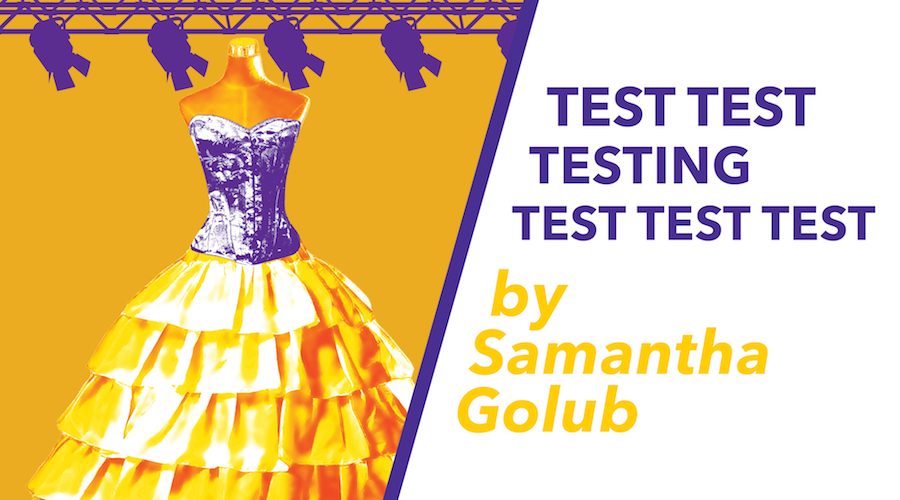 by Samantha Golub (Assistant Director, 10 Out of 12)
Hello! My name is Samantha Golub, I'm a junior BFA Theatre Education and Performance major, and am currently the Assistant Director of 10 Out of 12 by Anne Washburn, directed by Maureen Shea. It has been an absolute honor to work with Maureen and this amazing cast and production team these past few months. I'm so excited for our Emerson community to get a glimpse into the chaotic and passionate sphere that is a tech rehearsal.
10 Out of 12 is truly the only honest play about theatre I have ever experienced. Often the entity is glorified, to be a flashy, pristine, untouchable thing. This play begs to differ, which is what I love about it. I am a creature of the theatre, and I pride myself on having worked virtually every position I could get my hands on, both on and off-stage, over my career thus far. Not because I want to be a Costume Dresser or a Lights Programmer for the rest of my life. But because, to me, engaging in a differing perspective provides insight into your own. And this play engages in every theatrical perspective to its fullest and messiest extent.
Maureen often describes this piece as a "love letter to the theatre," and I simply couldn't agree more. There is nothing like being in a space filled with like minded people, laboring and persevering towards a common goal, and that, to me, is the epitome of what a 10 hour tech rehearsal feels like. The cast of Delirious, our play within the play, plus our cast and crew of 10 Out of 12, of more than 50 people, equals a massive force of creative energy, all of whom are climbing this metaphorical mountain that is 'the theatre' together. And there's something mysteriously wonderful and magical about that.
From the casting and preliminary meetings of this show in March, to our own 10 out of 12 rehearsals this weekend, I simply cannot express how much joy this journey has brought me. My role as Assistant Director on this show has had no bounds. One night I'm doing deep Dramaturgical research on various species of Storm Petrel, while the next I'm acting as Playwright, splicing together a reference script for our play within the play Delirious, while the next I'm anointed Dance Captain, swaying to the side as our cast of 18 performs a unison pavane. And in true Samantha Golub fashion, I would not have it any other way. Because that is the thrill of the theatre, and essentially the thrill of this show. This play celebrates what it means to be a true contemporary theatre maker, and I cannot wait for the Emerson community to come to the Semel Theater and celebrate with us.
10 Out of 12 opens on Thursday, November 21 and runs through Sunday, November 24 in the Semel Theatre. Tickets are available at bit.ly/10-out-of-12