Squeaky Fromme Love Song YouTube Viewing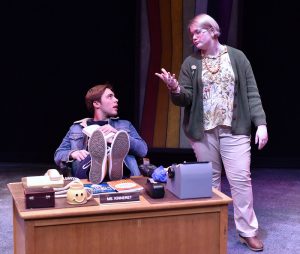 Get ready to put your feet up after a long week and enjoy our one-night-only viewing of James La Bellla's Squeaky Fromme Love Song on Saturday, March 28, 8:00 p.m. EST.
Bookmark this YouTube link for easy access to the premiere on Saturday: https://youtu.be/mM-Uyd-NRw0
ABOUT THE SHOW
It's 1975. Chicky Baby's brother is dead, his best friend Celeste thinks she's pregnant with the Messiah, and the Squeaky Fromme trial is in full swing. Chicky's quest for new philosophy spirals into chaos in this pitch-black comedy about the fetish of destruction hiding in our search for meaning.
Content advisory: This production contains instances of flashing lights, discussion of suicide, insinuation of sexual assault and rape, blood, mature language, homophobic slurs, and violence.
PROGRAM