SUMMER SPOTLIGHT: Omar Mardini is spending his summer with Central Square Theater in Cambridge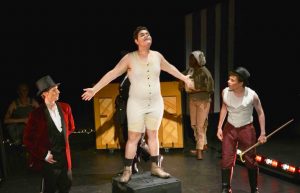 Hey hey! My name is Omar Mardini and I'm a sophomore BFA Theatre major with a concentration in Arts Management and Directing. This summer, I'm the Intern Assistant to the Executive Director at Central Square Theater (CST) in Cambridge, Massachusetts.
Striving to create theater vital to our community, Central Square Theater is the home for two residing theater companies: The Nora Theatre Company, which produces modern plays that also speaks to the feminine voice; and the Underground Railway Theater, a company that responds poetically to the vital social, political, and scientific questions of our time.
This summer, I'm working under the direction of Catherine Carr Kelly, Executive Director, as well as other theatre artists from around the world to within our own Emerson community. Some of our duties as the home for these two producing companies include drafting job offers and contracts for the cast and creative teams of our upcoming season, finding housing accommodations for guest actors, production budgets, analyzing our diversity and inclusion standards with all of our shows, assisting other departments around the company, and so much more.
Join me on Wednesday, July 17th as I takeover @emersonstage on Instagram. I'll show you around our intimate theater, offices, what I'm up to, and all the friendly faces I see every time I walk into Central Square Theater. See you then!